A mission is "what we do"
Our mission is to make disciples of Jesus Christ for the transformation of the world.
A vision is "where we are headed"
Our vision is to embody Revelation 7:9, the great multitude of reconciled saints "from every nation, from all tribes and peoples and languages" gathered around God's throne as one in praise and thanksgiving.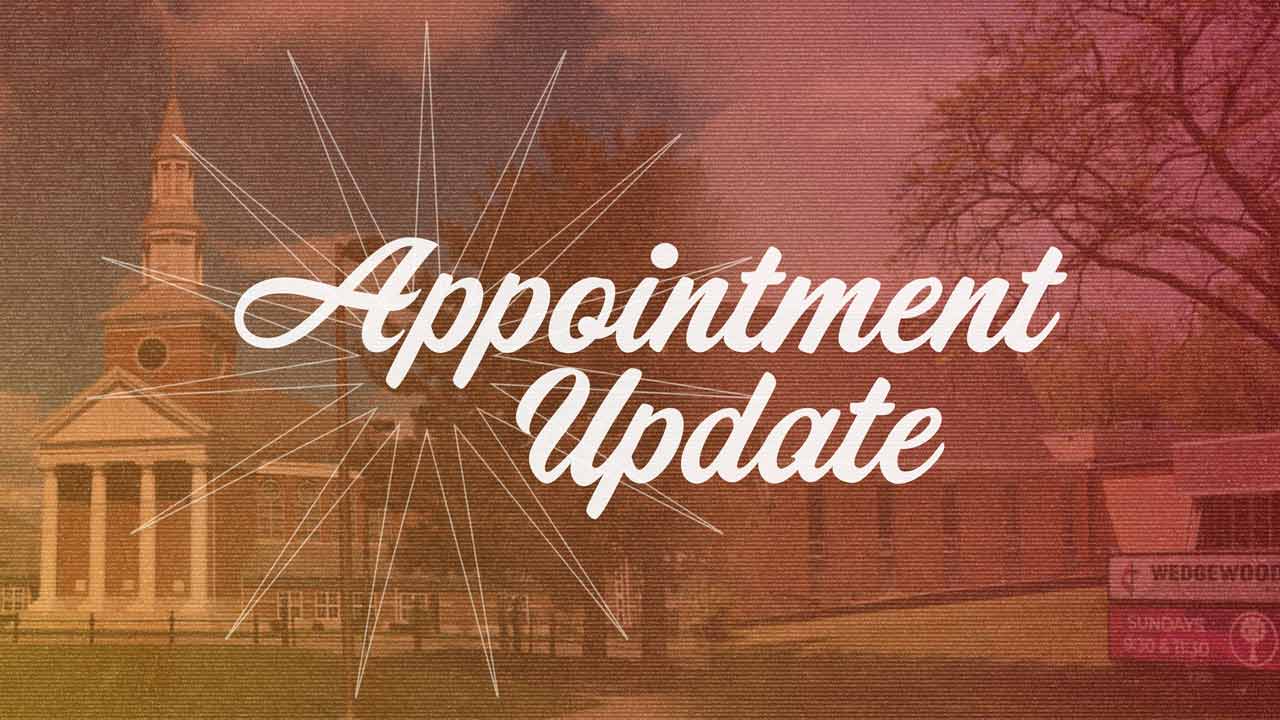 Updated Announcement (06/11/2023)
We are excited to share an important update regarding our service times and pastoral leadership.
Beginning July 2023, Wedgewood UMC will shift our traditional-style service to Sundays at 9:00 AM and our contemporary-style service to Sundays at 12:00 PM. Additionally, First UMC of Akron will be transitioning to a new service time of Sundays at 10:30 AM. 
These new service times will run from July 2023 through at least September 2023 as we collect feedback and determine what works optimally for our communities.
In addition, we are thrilled to announce that Ja'Alycia Richmond has been appointed as the new Associate Pastor of both Wedgewood UMC and First UMC of Akron beginning July 1, 2023. Ja'Alycia, joined by her husband and three children, brings a passion for spiritual leadership and a heart for service, and we are excited about the energy and vision she will bring to our church communities.
We are excited about the new ways that God is moving in our church, community, and world and look forward to joining in worship with you at these new times!
Original Announcement (04/30/2023)
We are excited to announce a significant decision made by Bishop Tracy S. Malone and the cabinet of The East Ohio Conference of The United Methodist Church. After thorough and prayerful consideration, the pastoral appointment of Wedgewood United Methodist Church will be modified in the coming days.
Beginning July 1, 2023, Dr. Rev. Joe Burkhardt will become the Lead Pastor of both Wedgewood United Methodist Church and First United Methodist Church of Akron.
In addition, a new Associate Pastor will be appointed to both Wedgewood UMC and First UMC of Akron. This individual, who is yet to be determined, will assist Pastor Joe in ministry via occasional preaching, visitations, and helping with the day-to-day operations of both churches.
This dynamic and dedicated spiritual leader will be prayerfully chosen by the bishop and cabinet based on their commitment to the mission of The United Methodist Church and their passion for fostering a vibrant, faith-filled community. An additional announcement will be made in the coming weeks once this appointment has been confirmed.
We are confident that under the guidance of both Pastor Joe and our new Associate Pastor, we will continue toward our mission of making disciples of Jesus Christ for the transformation of the world.
Frequently Asked Questions
 Q: Why is this change being made?
The East Ohio Conference of The United Methodist Church is increasingly investing in creative ways to make connections among our churches and communities. This new appointment will create new ways for us to work with Akron area UMCs/pastors: to support one another, as well as to find ways to work together with businesses, first responders, schools, government agencies, community organizations, etc.
Q: Will Pastor Joe continue to be pastor at Wedgewood?
Yes. Pastor Joe will serve as Lead Pastor for both churches, continuing to participate pastorally in the life and ministries of Wedgewood.
Q: How will Pastor Joe's role at Wedgewood change from its current state?
Because of travel and other organizational efforts, Pastor Joe will be in the church office less often and will be generally less available throughout the week. Pastor Joe will be working with and sharing pastoral responsibilities with an Associate Pastor, including visitations and Sunday worship.
Q: How will this change Pastor Joe's schedule at Wedgewood?
Since Pastor Joe will spend much more time throughout the week traveling, organizing, and meeting with other people in the community, he will not be spending nearly as much time in the church office.
Q: Will Pastor Joe still be available for life events (e.g., weddings, funerals, etc.) and for pastoral care?
Yes. Pastor Joe will be available for such events and needs. However, he will be working with the Associate Pastor, who will also be helping with such events and needs.
Q: What will be the role of the Associate Pastor?
The Associate Pastor will be available for any typical pastoral duties. The main areas of focus of the Associate Pastor will be to aid in Sunday worship services and to provide pastoral care and visitation within the congregation.
Q: When will the Associate Pastor be named and announced?
Bishop Malone, DS Lewis, and the Cabinet of the East Ohio Conference of The United Methodist Church are currently working to identify someone to fill the role of Associate Pastor. They will make that announcement as soon as possible.
Q: Are Wedgewood UMC and First UMC of Akron merging?
No. Both churches will continue to operate as independent churches, with both Pastor Joe and the new Associate Pastor serving as "co-operative" ministers at both churches. Our churches may, however, become closely partnered in new ministry opportunities with each other and with other community partners.
Q: Will each church maintain its own autonomy?
Yes. This new appointment is not in any way intended to merge the churches. Each church will maintain its own current structures, committees, and finances.
Q: How will this change our worship services (style, times, etc.)?
A Transition Team is working out details which will be announced as soon as possible. Worship service times will almost certainly change out of necessity, but the Transition Team is working to minimize those changes.
Q: Will this require more from the people of Wedgewood?
No. Ministries that are already occurring in each church will continue as they are at present. New opportunities throughout greater Akron will undoubtedly emerge, but participation in any of those future ministries will be entirely voluntary.
Q: Will each church maintain its committees, finances, structures, and volunteer base?
Yes. None of the committees or structures will be combined. There will be future ministry opportunities that emerge in which the churches may join together, but none of the existing structures are designed to be merged.
Q: What if I have other questions about these changes?
Please contact the church office with any further questions. Details and updates during this transitional time will be communicated as quickly and clearly as possible.